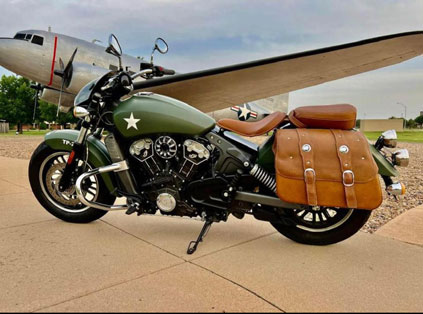 Every year Operation Once in a Lifetime is invited by one of our biggest supporters Jack Daniel's to the largest bike rally in the world in Sturgis, South Dakota. We often raffle off a motorcycle that benefits our annual Closure Trip to Arlington National Cemetery, as well as our annual Remembrance Trip to the 9/11 Memorial. This year we are setting aside half of all the raffle sales to also support a family currently fighting cancer.
There are two ways to help:
1. Make a tax deductible donation.
2. Purchase a raffle ticket to win this motorcycle, which will be raffled off August 11th in Sturgis, SD! Raffle tickets are $15 each or 5 for $50. You do not need to be present to win. Winner must pick up bike in Sturgis, SD or Plano, TX. Only 3,000 tickets total can be sold and tickets are numbered 1-3000. Drawing will also be aired live on Operation Once in a Lifetime's Facebook page.
Get tickets here: https://operation-once-in-a-lifetime.square.site.
For questions, please email staff@operationonceinalifetime.com.