Operation Once in a Lifetime is currently trying to help two great military families. One of these families has experienced an unbearable tragedy and the other is trying to come together for the birth of their first child.
SPC Deitton Freitas is an active duty soldier who has deployed in defense of our country and continues to serve as he is currently stationed at Fort Benning Georgia. Last week was supposed to be the happiest day in his life, as he and his wife were expecting their first child together. However, during labor, things went terribly wrong. SPC Freita's wife suffered from a rare complication called Amniotic Fluid Embolism which took her life during labor.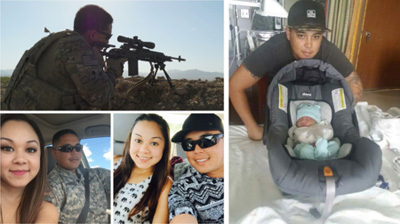 SPC Deitton is now a single father of a little boy and being originally from Hawaii and having no close family around, they are in need of support. Operation Once in a Lifetime is currently raising funds to help this family with diapers, formula, and financial assistance to get family members to Georgia to help with this tragedy as well as assisting with daycare. SPC Deitton will be a single father serving in the United States Army with no immediate family nearby. To help this family during their deepest time of need, you can make a tax deductible donation.
PFC Richard Giles joined the military because he wanted to give back and serve. After completing basic training and Advanced Individual Training, PFC Giles was stationed in Germany leaving behind his then 6 month pregnant wife, Kassidy. PFC Giles' wife is due September 29th with their first child and the military has agreed to let PFC Giles come home but unfortunately he would have to pay for his own flight. Operation Once in a Lifetime is currently helping raise funds to fly PFC home on September 25th to be there for the birth of his son.